Social Impact Project for UX Expert to Contribute to a Unique Platform
---
Project Description and Impact
Youth unemployment rates are hitting record highs around the world. Educational and training opportunities are scarce, and access to stable jobs can be even more limited. Though these challenges feel entrenched, the digital economy provides new pathways for disenfranchised youth to access high-quality education and stable employment. Our model transforms the way previously marginalized populations can access jobs in the digital economy, and currently provides ongoing training and rich employment to over 600 youth in India.
In order to maximize our social and business impacts, it's imperative that we have an intuitive and truly integrated work platform for our staff and client users. As we continue developing our in-house platform - which incorporates everything from employee skilling, to project management, to client delivery - we are looking for an enthusiastic UX expert who can contribute innovations and finesse.
Our in-house platform needs to be robust enough to serve enterprise needs, but intuitive and simple enough to be understood by newly computer-literate teams. It's a fascinating challenge!
Great for people with user expereince design skills! Interested but not the right length? Like our organization and have an idea how your skills can help us? Message us at: match@movingworlds.org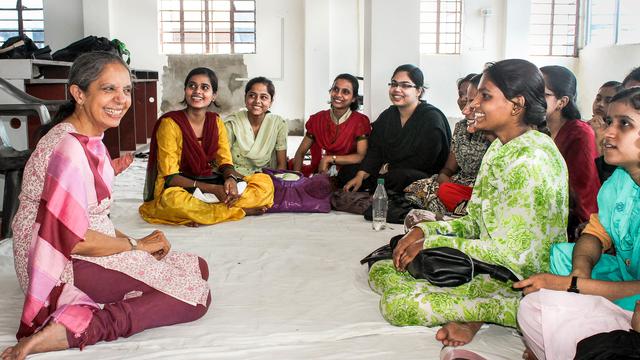 Learning Opportunity
By participating in the MovingWorlds Institute, you will first learn social impact frameworks and human-centered design before putting your existing skills and new knowledge to action.In addition, this organization will expose you to new things, like:
In this position, we're looking for an Experteer to really dive in and create something new with us. The learning potential - and impact one could have - is huge!
In addition to strengthening design, UX and UI skills, Experteers can learn more about new ways of doing business, delivering global services, and approaching global interconnectedness and opportunity.
Combined, our senior staff have worked in over a dozen countries and many different industries. Their expertise is a valuable resource for anyone who wishes to deepen their global exposure, their understanding of creating social impact through business, and their ability to research and build new products.
Accommodation
We've hosted many international staff, interns, and fellows. Accommodation can be provided and details will be discussed with experteer.
Additional Benefits
Get involved with strong and diverse communities on the ground in Kolkata. We've hosted dozens of professionals, fellows, and interns over the years and know how to get you settled!
Learn about some of our cutting-edge clients changing the world of tech: We work with fascinating companies leading the way in ecommerce, augmented/virtual reality technologies, the sharing economy, financial services and more. As you learn about our organization, you will also get to learn more about these clients.
Explore new ways to do business: We are committed to measuring success as a company not just by our bottom line, but by our social impact as well. Learn about the huge opportunities this presents, and explore new ways to tackle the challenges.
A unique experience abroad: Kolkata is a city unlike any other. Vestiges from its time as the capital of the British India intermingle with new construction, while India's oldest metro system snakes underground. Glimpses of village life are still visible in various neighborhoods in Kolkata, where the rules of time don't seem to apply.
Virtual
This project accepts virtual experteers.
About the Hosting Organization
iMerit Technology is a For-profit with social mission working on Information Services.
Representative