Social Impact Project for Academic Coordinator at English School
---
Project Description and Impact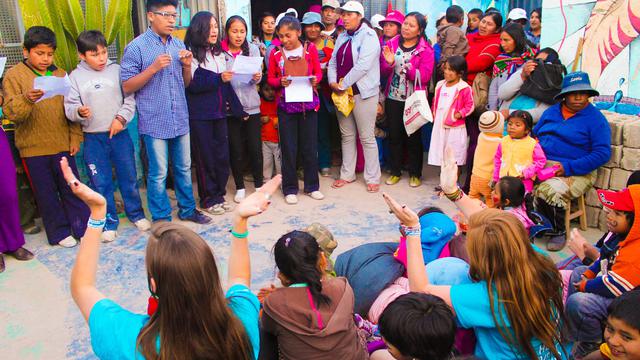 The Academic Coordinator manages the day-to-day running of our English School in Arequipa, Peru. As well as being a Lead English Teacher in one of our six classes, the Academic Coordinator will ensure the other five classes are running smoothly. The Academic Coordinator is the main point of contact for other volunteers at the school.
English classes run from 3.30-4.30 each day. Afterwards, students either join homework help, playground time, or art class. The Academic Coordinator is responsible for ensuring all the classes begin punctually and that the volunteers are assuming their relevant positions correctly.
What does it involve?
Day-to-day management of the school, including its English, art class, homework help, and sports programs.
Supervising volunteers at the school
Plan and deliver five English classes per week, each lasting one hour
Record lesson plans and monitor student progress and update student records
Participate in weekly volunteer meetings and raise any issues relevant to the management of the school
Build relationships with the parents
Update teaching materials and notify the Volunteer Coordinator of any additional resources required
Take part in the organization and delivery of occasional our fundraising initiatives
Desired skills:
Fluent in English
Intermediate Spanish or above
Experience working with children
Experience and/or qualifications in teaching
Experience managing a team preferred
Successful candidates will be:
Organized and reliable, with good time management skills
Good leaders and able to manage a team
Creative and resourceful to be able to work in a development environment and make best use of our limited resources
Flexible and responsive to the frequently changing needs of the organization and community
Approachable and personable to build effective relationships with our team, students and local people
Learning Opportunity
By participating in the MovingWorlds Institute, you will first learn social impact frameworks and human-centered design before putting your existing skills and new knowledge to action.In addition, this organization will expose you to new things, like:
What we offer
The opportunity to further your practical teaching and management experience in a friendly, welcoming, and supportive environment
The opportunity to contribute to the improvement and development of our program
A reference upon successful completion of the placement
The chance to live in Peru as part of a team of fun, supportive and like-minded volunteers
The chance to improve your overall understanding of the international development field
Additional Benefits
You will be part of a fun and active international community in Arequipa Peru. There are endless opportunities to meet new people, visit new places and explore the wider country of Peru.
About the Hosting Organization
Helping Overcome Obstacles Peru is a Non-profit working on Education.
Representative