Social Impact Project for Crowdfunding Experteer to Support Women Farmer Organizations in Cameroon
---
Project Description and Impact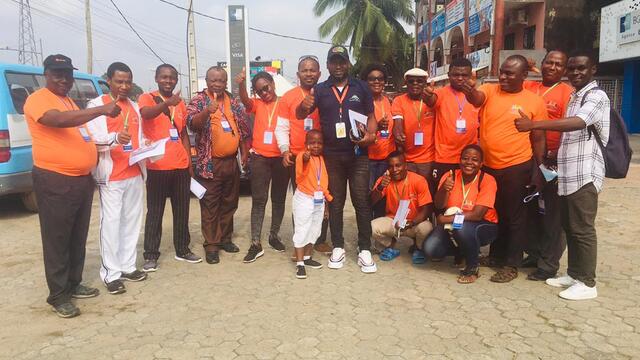 Local Communities in Cameroon are characterized by high levels of poverty and malnutrition. Moreover, the region's productivity has been in recent years, increasingly affected by climate change. In order to cope with increasing social, economical and environmental challenges, smallholders and producers have decided to come together and adopt best practices in farm and business management
At CAS Cameroon, we aim to help the underserved communities of Cameroon by providing the necessary resources to establish an environment that fosters community development.
Our activities over the last two years has seen us train over 200 women on best farm and management practices, train 30 youths on best community practice when it comes to local business development, and train 2 local traditional councils on best practices when it comes to management of community projects.
The Project aims to develop farmer organizations as a vehicle to introduce innovative technology and provide training, inputs, infrastructure, and other forms of assistance.
The Strategic Objective of the Project include:
1. Improve market linkages, value addition, and quality and safety of the food system.
2. Farmers' Organizations strengthened for transfer of knowledge and improved access to markets and input delivery.
3. Reduce poverty and enhance food security and nutrition.
Our wonderful task forces are the driving force of our efforts, as an experteer, you will be assisting a Small Local for Profit Enterprise with a social mission that receives limited international funding. Working with CAS can be a great way to build up your resume through learning new skills while experiencing Cameroonian culture. We value your time and the help you provide that which will make a difference in the Cameroon communities.
Learning Opportunity
By participating in the MovingWorlds Institute, you will first learn social impact frameworks and human-centered design before putting your existing skills and new knowledge to action.In addition, this organization will expose you to new things, like:
A professional experteering with us has a series of advantages;
1.The Experteer get to work with dynamic team members, sharing in their experiences and the team members also benefiting from the Experteers knowledge.
2. All our Experteers would be given the opportunity to Learn French as a second language when with us.
3. An Experteer would would given an opportunity to learn about the economic potential of Cameroon and the CEMAC sub region.
4.The Experteers gets to work with grassroot communities and gain in-depth knowledge on how these community members live.
Food Stipend
We would provide our Experteer with Lunch daily, made of local meals.
This is to help the Experteer Exploit our Local Culture.
Additional Benefits
Experteers choosing to work with us would have the following benefits:
1.Opportunity for touristic travel and enjoy our rich diversified culture.
2. Opportunity to eat and share our local meals.
Virtual
This project accepts virtual experteers.
About the Hosting Organization
COMMUNITY AGRO SERVICES LTD is a For-profit with social mission working on Consumer Services, Impact Investing, Warehousing.
Representative