Based in Cambodia
Samatoa Lotus Textiles
A For-profit with social mission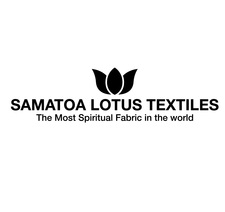 ---
Organization Details
Samatoa Lotus Textiles is a Cambodian social enterprise aiming to be the most innovative and socially responsible producer of Eco-Fabrics that support vulnerable women and their family in Cambodia.
The fabrics created are made from vegetal wastes, spun and woven by hand, following the Khmer traditional methods, giving them unique texture and properties.
Creating the greenest and most innovative textile, Samatoa was recognized in 2012 by UNESCO Prize for handicraft excellence. Its eco-luxury lotus fabric and lotus blended with silk, kapok and banana fabrics are now attracting growing interest of international designers in ethical fashion and high-luxury market.
Impact Story
Although Cambodia is rich in natural resources, decades of war and internal conflicts have left it one of the less advanced countries in the world. Nowadays, its economy depends mainly from agriculture and textile industry.
The textile sector is essential to the development of the Cambodian economy. This industry remains very fragile because it relies on cost competitiveness, is dependent on foreign capital and generates a low added value. Despite increased attention in recent years to the social dimension, the conditions of life and work of textile workers remain difficult.
Samatoa Lotus Textiles wishes to propose a sustainable alternative to the current textile sector; alternative that can be linked to agriculture and also can be duplicated within Cambodia.
Moreover, in Cambodia's traditional society, women are usually the most disadvantaged and are less valued than men. Persistent cultural barriers lead women to poverty, illiteracy, poor training and other obstacles that prevent them from effectively participating in Cambodia's development.
That is why Samatoa Lotus Textiles commits to support the empowerment of rural woman by providing new skills, opportunity of jobs and decent working conditions. From its commercial development in 2013, our innovative textiles enable the creation of a workshop of 30 women who are exceptional in the "know-how" from spinning the yarn to weaving and dyeing the fabric.