Based in Ukraine
MUST HAVE
A For-profit with social mission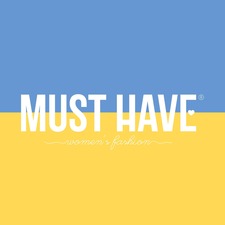 ---
Organization Details
MUST HAVE is a Ukrainian fashion brand, we have been working since 2010, operate 10 brand stores in Kyiv and Lviv and have our own 1300 sq.m. manufacture. Our manufacture is situated in Berdychiv, Zhytomyr region and 90 people are employed there. The brand's assortment includes business, casual and evening apparel.
The brand also has shoes and accessories lines and regularly releases unisex collections. High quality fabrics and materials, such as wool, leather, satin, linen and cashmere are used to bring MustHave designs to life.
Each season we present new signature prints designed by our creative team.
Impact Story
We place great importance on the development of the town and region where our company operates to assure the growth in every sector: from education of children in schools and colleges to raising the standard of living and helping to reduce unemployment.
Nearly 5 million jobs have been lost in Ukraine since February 2022, says ILO. As of March 2023 the level of unemployment in Berdychiv and Berdychiv district is 0,7% — we aim to reduce that and make Berdychiv the front-runner of the consumer goods industry.
We have already established the training class where people without specialized education or skill learn a new trade in a few months, they learn to sew — earn money for that and acquire new skills.
We work with universities, trade schools, colleges to aid in the growth of new specialists and raise the prestige of working professions, increase social status of workers and promote an active life position in young people.
We plan on developing partnerships in the consumer goods sector by creating communities for sharing experience and securing the sustainable development of consumer goods manufactures in the region.
We do our part in solving the worsening ecological situation in the region by assuring the correct disposal of materials, sorting waste and creating the cycle of waste management to reuse materials.