Based in United States
TractorBeam - Rural Economic Equity Accelerator
A For-profit with social mission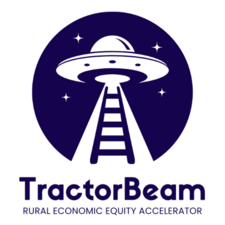 ---
Organization Details
TractorBeam: Rural Economic Equity Accelerator is an Open Innovation project aimed at co-creating scalable, rural-led solutions to achieve economic equity in Rural America.
Rural Economic Equity Accelerator
Purpose: We aim to collectively create and share scalable, rural-led solutions that nurture the future of sustainable rural economies.
We aim to eliminate rural opportunity gaps and income disparities by scaling effective solutions across the USA.
Disparities create division. The wider the disparity, the greater the divides. TractorBeam sees rural economic equity as the only path to safeguard the future of our democracy.
Impact Story
An Open Innovation Ecosystem for Rural Economic Equity
The vision of TractorBeam is to build an engaged, Open Innovation ecosystem for rural economic equity focused on three areas of impact: Rural Tech Talent, Rural Entrepreneurship, and the Rural Creative Economy.
The Open Innovation model embraces collaboration, creative solutions, and inclusivity by involving various stakeholders and enabling shared learning and growth.
By pooling resources and knowledge from diverse sources, TractorBeam aims to create a dynamic ecosystem where innovation and creativity can thrive to address rural economic equity challenges.
The TractorBeam Development Model
1. Partner for Local Impact
TractorBeam facilitates collaboration between community groups, nonprofits, rural cities, government agencies, & corporate partners to design, develop, and pilot grass-roots, approachable, initiatives in our three impact areas: rural tech development, rural entrepreneurship, and creative economies. Together, we drive meaningful change from the ground up.
2. Empowering Rural Leaders
We will package the most impactful initiatives into comprehensive program implementation kits (PIKs). These turnkey resources allow us to scale the impact of each program. They will be shared with rural leaders through cohort-based communities of practice, guiding & supporting them through the steps to implement effective solutions in their communities. We empower rural leaders to make a real difference.
3. Driving Rural Transformation
TractorBeam will collect and analyze aggregate data from our rural implementation network partners.This data provides insights into the local, regional, and national impact of our initiatives. Through publishing impact reports, recommending structural reforms, and constantly improving our programs, we will drive continuous rural transformation and close the opportunity gap.

Read more about TractorBeam's 3 impact areas & our open innovation approach.