Based in United States
World For Good
A For-profit with social mission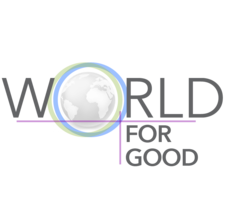 ---
Organization Details
I own a fabric bag company called World For Good and it's structured as a Benefit Corporation in the state of Florida.
My social enterprise exists to help give the underprivileged community a way to earn fair wages by making fabric tote bags out of textile scraps that would have otherwise ended up in a landfill.
Here is how it works:
1. Left-over fabric scraps from clothing manufacturing companies are donated to nonprofit centers that employ the underprivileged community
2. The makers make the fabric bags
3. I buy them at fairtrade guidelines
4. I sell them and then I buy more from the makers
It's a wonderful circular economy that helps people thrive and helps to reduce the need for plastic bags.
Every purchase supports fair wage employment and skills training for women who are at high risk or survivors of trafficking, slavery, and/or poverty
Impact Story
WE FOUNDED THE COMPANY IN 2019 TO:
-Make an economic difference for women living in poverty where opportunity is scarce and exploitation is common
-Provide retail consumers a quick & easy way to support human rights initiatives with a single bag

My award-winning certified social enterprise, World For Good, is solving multiple world problems – one tote bag at a time.

Problem #1: In nearly 20 countries, husbands have the legal right to prevent their wives from working, while four countries prohibit women from registering a company.

Problem #2: Over 20 Million women world-wide are at risk of, a victim of, or a survivor of human trafficking; most sold there by their own families who had no other means of economic support.

Problem #3: Over 20 Billion pounds of textile waste is thrown into landfills every year, a large portion of this coming from fabric scraps discarded by the textile industry.

We have created one solution that addresses all three of these problems. By purchasing World For Good bags, you can :
• provide meaningful employment
• provide basic human rights, such as education and food
• provide hope

We are partnering with NGO's around the world that employ women from disadvantaged communities and pay them a fair wage to create beautiful and unique cloth bags from fabric scraps. We sell the bags and use the money to buy more bags and provide more work – keeping more fabric out of the landfills!