Social Impact Project for Solar Photovoltaic Water Pumps Guru
---
Project Description and Impact
In the rural areas of Mizque and Aiquile, there is a great demand of water. Our company wants to satisfy this demand by introducing irrigations systems based on solar photovoltaic water pumps that will help people living in these communities. Since we recently started working with these projects, our knowledge is still basic. We acknowledge that the analysis and planning of the systems to meet the requirements and characteristics of these communities and our costumers are essential.
Therefore, we are currently looking for support to calculate, size, and plan irrigation systems using solar photovoltaic water pumps for these small indigenous communities. At the same time, we would like support to visit these communities to acquire data of the customers' requirements and to demonstrate the use and effectiveness of these systems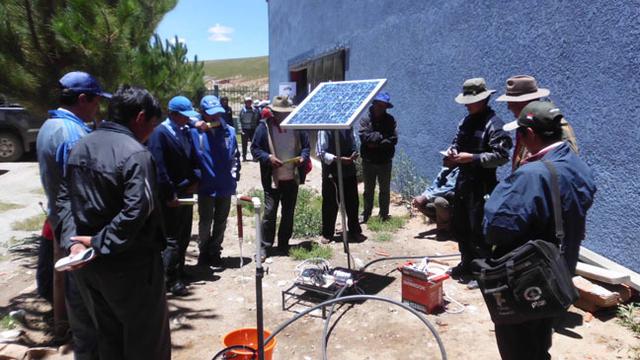 Learning Opportunity
By participating in the MovingWorlds Institute, you will first learn social impact frameworks and human-centered design before putting your existing skills and new knowledge to action.In addition, this organization will expose you to new things, like:
Our Experteer will not only acquire more experience in the field of hybrid photovoltaic systems, but will also learn from other projects and activities the company works on. Some of the projects we are currently working in are: applications of solar and biomass systems and equipment mainly in rural areas in Bolivia, and solar photovoltaic pump systems.
Accommodation
While staying in La Paz, we can offer accommodations at our executive manager´s house in Bolonia in la Zona Sur. Our Experteer would have his/her own room and bathroom. The house is located within walking distance from our offices. While staying in Mizque, our Experteer can choose from two options. She or he can stay over at our representative´s house where she/he would have a single room and shared bathroom. The other option is to stay in a local hostel.
Food Stipend
While our experteer stays in La Paz, we could provide breakfast and lunch every day, including weekends. We would offer a combination of traditional Bolivian food and some international food. While our Experteer stays in Mizque, we sadly cannot offer meals.
Additional Benefits
Upon the arrival of our Experteer, we would offer a tour of the city of La Paz to visit the main touristic attractions and the most popular places where locals like to spend their time. We would also help our Experteer integrate in our culture and in the company. If we get projects in other rural areas, our Experteer could join our technical team to visit the communities where we work.
Also, our experteer can, on his or her own, experience more about Bolivia, Cochabamba, and La Paz which was recently declared one of the 7 new Wonder cities of the world. Within a couple of hours from the city, there are various exiting activities and places to visit. We have Lake Titicaca, Los Yungas, and Huayna Potosi among our most famous touristic attractions. In Bolivia, the experteer can also travel to places such as Salar de Uyuni (salt desert), or Madidi (rainforest).
Virtual
This project accepts virtual experteers.
About the Hosting Organization
Ecoenergía Falk is a For-profit working on Renewables & Environment.
Representative