Based in United Kingdom
LRTT (Limited Resource Teacher Training)
A For-profit with social mission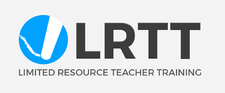 ---
Organization Details
Why work with us?
A global education social enterprise accelerating quality education by bringing together teachers from the most economically developed countries to provide training for teachers in contexts where people live on less than $5/day.
Problem
Despite clear evidence showing the essential link between well-prepared teachers and positive student learning outcomes, teacher training is endemically under-funded and teaching as a profession is undervalued by societies. As a result, 190 million schoolchildren around the world can't read this sentence.
Solution
We mobilize teachers from the UK, US and AUS to become Fellows and deliver face-to-face teacher development programs in Africa, Asia and the Caribbean. By providing professional development experiences for participants, and by connecting a disconnected world, we are building a global movement of well-trained, effective and empowered teachers.
Support Needs
We're looking for:
Design (Web or Print)Web DesignWeb Development
Impact Story
Experteering opportunities with us
We are looking to bring in domain experts to help us move to the next level. Experteers will be based at the Volunteer Uganda lodge in Uganda as part of our vibrant team. They will be provided with food, accommodation, transport a great community. Importantly, they will contribute to building a world-class social enterprise in partnership with a fast growing, committed and highly capable team.

Next steps
If you share our vision that every child should have a great education and you'd like to contribute your skills and learn alongside us. Then we are excited to hear from you.