Based in United States
World In Sign, LLC
A For-profit with social mission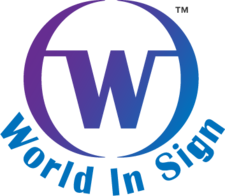 ---
Organization Details
World In Sign (WIS) is a Maryland-based D/deaf-owned business dedicated to fostering accessibility in all walks of life through innovation, technology, and education. WIS aims to fill the market gap for Disabled-first technology which focuses on the ease of use for people with disabilities within technological innovation. WIS founders observed the daily accessibility issues in the lives of people who are D/deaf and Hard of Hearing (HoH) and/or blind, people with other disabilities of all ages, as well as senior citizens. Ourendeavors include the prevention of these issues by making simple adjustments to routine and through technology development. This resulted in what WIS is today, a global company with many ventures around the world, all operating on the singular motto "One Technological World."
Impact Story
WIS services currently include Video Interpreting (VI), translation services, video insertion, video production, on-line event management services, emergency services, educational technology services and technology development. WIS is open about its accommodation for disabilities and is constantly looking to grow and educate in this field as needed. WIS is committed to honoring the ADA and being 508 compliant in their web access. In terms of accessibility, we r eiterate the catholic nature of our solutions – everybody benefits from them. This is more relevant now since the signing of the Executive Order on Diversity, Equity, Inclusion, and Accessibility in the Federal Workforce1 by President Biden on June 25th, 2021
These services and products help the global deaf population and other communities remain connected even while in disparate locations and when physical distancing, such as during the COVID-19 pandemic, requires us to be apart. It is more important than ever for WIS to help communities everywhere with robust digital ecosystems that are inclusive, secure, and of benefit to all. WIS has many global offices in countries including Germany, France, Japan, South Africa and India. The WIS Germany office was recently able to provide interpretation into Ukrainian Sign Language for around 600 Deaf Ukrainian refugees who were welcomed into Germany.
Diverse Social Enterprise
The TRANSFORM Support Hub is committed to accelerating diverse owned and led enterprises to build more equitable and resilient supply chains.
Ethnic & Racial Minority
Owned & Led
People with Disability
Owned & Led